Dyslexia Gold Trial Results
Program
Engaging Eyes
Spelling Tutor
Fluency Builder
Reading Unlocked
Avg Improvement
12 months (Reading)
10.5 Months (Spelling)
7.5 Months (Reading)
14 Months (Reading)
Age Range
KS1, KS2 (6 - 11 year olds)
Y4 - Y9 (8 - 14 year olds)
KS2 (7 - 11 year olds)
KS1 - KS2 (5 - 11 year olds)
No. of Pupils
402 pupils from 49 schools
40 pupils from 4 schools
53 pupils from 7 schools
45 pupils from 18 schools
Length of Intervention
3 Months
Research Design
One group pre-test/post-test study
Inclusion Criteria
Pupils were all identified by their SENCO as having a reading age of at least 12 months behind their chronological age
Test Used
New Salford Reading Test
Vernon Spelling Test
New Salford Reading Test
New Salford Reading Test
Executive Summary
Dyslexia Gold is a suite of programs primarily for children with SEN. Three programs focus on reading, one on spelling and one on times tables. They are all designed to be calm, engaging and effective.
Three of the programs, Engaging Eyes, Fluency Builder and Spelling Tutor were subjected to formal trials during 2018. A further trial, in 2019, was planned for Engaging Eyes and Fluency Builder. Unfortunately, due to school closures, only the Engaging Eyes was completed.
Key Conclusions
98% of struggling readers cannot sustain convergence (focus both eyes on the same point for a period of time).
Playing Engaging Eyes for 10 or more times improves the average reading speed and reading age of pupils.
Playing Fluency Builder for even a short amount of time improves reading age.
Playing Spelling Tutor for 10 or more times improves spelling age.
The intervention is suitable for pupils with English as an Additional Language.
Daily interventions within the school environment need to be prioritised to allow pupils to make swift progress.
Results: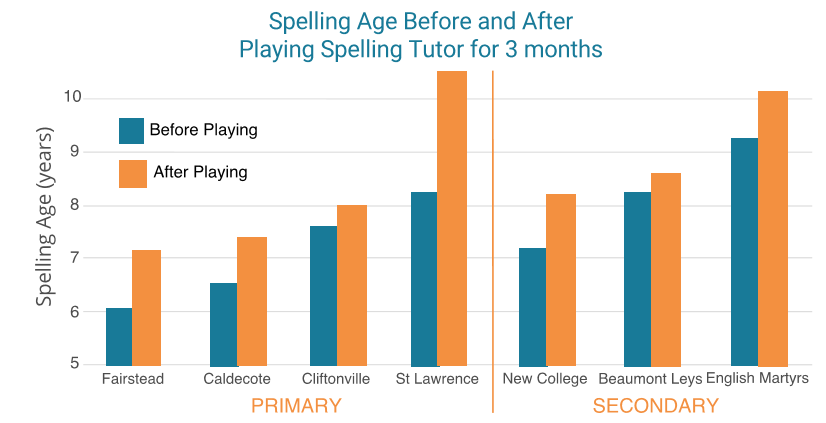 Dyslexia Gold goes beyond phonics to create fluent readers and writers.
Reading improves by 12 months in a term

Spelling improves by 10.5 months in a term

Dyslexia Gold is an evidence based program to help pupils who aren't making progress despite high quality phonics teaching.
All children have made accelerated progress - some now have a reading age higher than their chronological age.
Eileen Maceachem, SENCo
Mile Cross Primary School, Norwich
Get Started